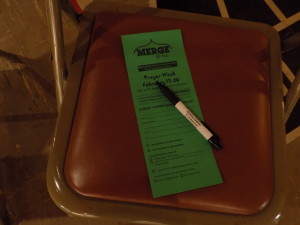 Last night I took a small stone and passed it back and forth in my hands. Despite the almost insignificance of the stone in my hand, the weight took me by surprise. The stone began to represent my self-doubt, feeling of worth, comparing myself to others, and my shame. It was a heavy stone. There was no one word I could write on the stone that would represent my pain so I scribbled on it with the chalk. I made white streak after white streak, combining all of the words into one white splotch that encompassed it all. I walked up to the communion table, and I dropped the stone in the bucket of water. The sound of the stone hitting the bottom of the bucket rang in my ears as the water splashed out and I received communion. I wish I could say I left it all in the bucket, on that stone last night, but I didn't.
At Merge we discussed the significance of Ash Wednesday and spent some time in prayer letting go. Ashes seem to only symbolize death and dying, but we are reminded that they also represent that we are God's good creation. The ashes that are pressed on to our foreheads represent the goodness of our beings in the midst of our humanness. In this time we remember and sacrifice the things that mean the most to us.
Growing up I was always encouraged to pick something to give up, such as soda or chocolate. I remember one season of lent I gave up fast food and since then I rarely eat it. These sacrifices are not wrong by any means, but I think we are called to do more. This "more" is not meant to be a burden or a stressor, rather it is meant to enable us to be more, do more, and love more fully. We are called to drop all of the bad things that take up space in our lives and make room for God's love and the peace that it brings.
While giving up some type of food could require dedication, giving up shame, guilt, regret, or whatever is most prevalent in your life could seem out of the picture. Even naming something more deeply that we need to let go of is completely intimidating. It seems like a part of who we are, but it doesn't have to be.
As I say all of this and think all of it through, I still struggle with letting things go in order to make room for something greater. Some part of me knows that comparing myself to others, whether physically, mentally, or emotionally, will lead me down a path I do not want to take. Some part of me knows that feeling shameful of what I eat or what I think others see will lead me down the path I do not want to take. Some part of me knows that my doubt in myself to overcome obstacles will lead me down a path I do not want to take. Yet I still fall back into these routines because somehow they bring me comfort. For so long I relied on these feelings and ways of living that I was blinded to the harm they began to cause.
I hoped that by involving myself in these unhealthy ways of living I would find the attention and answers I longed for. My hope soon turned into a sort of addiction that required me to doubt and recover, doubt and recover, doubt and recover. The time that I took last night to sit and pray reminded me that there is more out there, more that I am only just beginning to resurface. If I do less of these things that hurt me then I will have more room to experience God's love and peace.
Despite the battle we continue within ourselves though, God will still find us. Even as I am still practicing making more room, God finds me and loves me anyway. We don't have to be perfectly open or perfect in any way, we just have to meet grace and love where we are. It may seem that we are weak and unable to handle giving up something that was of so much worth to us for so long, but we become stronger by doing so. Our weakness and feelings of incapability stem from the unhealthy things in our lives that drag us down. Our strength comes from not only voicing what we need to let go of, but in finding more space to let in God's love.
Maybe this lent season you chose to give up chocolate, but I encourage you to also find something more deeply that you can give up in order to take on something that will bring you more strength and love. Whether you symbolically toss a stone into water or just whisper what you are letting go of when no one's around, God will hear you and will help you figure out how to pursue such a seemingly daunting task. Start by letting go.
I will give you a new heart and put a new spirit in you; I will remove from you your heart of stone and give you a heart of flesh.
 Ezekiel 36:26