My name is Krista Beyler and I am ISU Wesley's Director of Communications. I am a junior at Illinois State University pursuing a degree in Elementary Education with an ESL endorsement. I have been attending Merge since my second week on campus and this is my second year on ISU Wesley's leadership team. In addition to my leadership role I sing in the praise band at Merge and am a member of Alpha Kappa Psi, a professional business fraternity on campus. If you followed our blog's first launch last semester, I thank you, and if you are new to it, welcome!
Whether or not you were able to attend our first Merge of the semester last night, you should know that ISU Wesley has a tag line that encompasses our identity: "Belong. Believe. Become."
Belong. We strive to make our space and our ministry a place where each and every person feels welcome no matter where they have come from. Each person in our ministry is at a different place in their life, but the beauty of the space we have is that we find community in our differences. We respect those differences and provide a place where absolutely everyone can find rest and peace from the divides of our world. We provide a physical space in the basement Normal First United Methodist Church where we have Sunday Suppers most every Sunday night, a full kitchen, wifi, couches, and a place for people to gather. More than that though, we provide a metaphorical space of rest and peace in the relationships created through this ministry.
Believe. In our community of belonging, we have the tough and even difficult conversations. We encourage discussion and doubts. These years at college are meant to be a time where you discover and uncover what it is that you believe, what you value, and how you want to spend your time. It may seem scary to have these conversations, or even scary to be unsure, but discussion and conversation our very important to our ministry. It helps us to grow in our faith and find what we believe to be true. In the midst of these conversations the connections we have to each other become more real, raw, and important. We can have confidence and assurance that we will not be looked at differently because of what we say or do, but that we will be loved and accepted just as we are.
Become. The last word in our tag line reminds us of our growth while being a part of this ministry. As we create meaningful relationships and wrestle with our personal beliefs and values, we become the person God is calling us to be. This ministry provides a place where we can learn to stand tall and be firm in who we are. It may not come quickly or clearly, but it will come. We know that there will be struggle throughout our lives and hesitation is part of being human, but if we seek to follow and trust God the rest will follow. Our ministry is grounded in helping you find a solid foundation on which you can become the person you were made to be, whoever that may be.
I have yet to find out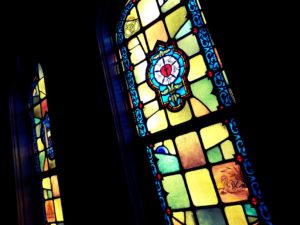 who exactly I am, as you may see over the course of the semester. I know that I want to become a teacher, I want to help kids, but what else is my life supposed to mean? Throughout the course of my college career I have found that how you spend your time dictates who you are, who you become anyway. There are many times I've wanted to be present and confident, but the way I managed my time did not allow for that. I became a person filled with anxiety, low self-esteem, and I was never present. I was always thinking of the next task, due date, or worry. I thought that if I took time for myself or to simply rest I would be behind. In worship I would be distracted, in praise band practice I would check the clock ten times a minute, in my fraternity's chapter I would be thinking of my to-do list, and at night I would cry in exhaustion for everything I had listed "to-do" in my planner for the next day.
It never even crossed my mind that I could be present and also get everything done that I needed to. As I get older and as each semester passes I find myself able to figure it out more and more, little by little. I am never without hesitation, but somewhere inside of me I feel peace in the decisions I make for myself. Being a part of this ministry I have met people who comfort me and challenge me. They haven't made decisions for me, but they have allowed me space to figure things out. Most importantly, they have provided me with the space to not be okay. Many times we are told to pretend we are okay or to "fake it till we make it". None of these suggestions are ever helpful, but sitting in the basement space we have and talking to our worship leader is. Going into the office and talking with whoever happens to be in at the time is. Seeing a friend on campus that you met at Merge is.
Even though I'm not fully sure of who I will become just yet, I have confidence in where I spend my time. I know that the relationships I hold on to and the places I find myself each day are helping me get closer to it. Each morning I wake up, no matter how tired I am, I know that things are more right than they used to be. This simple realization of betterment is something I hope each and every one of you are able to find. I am confident in this ministry and what it can mean in a person's life. Obviously I have had momentous struggle in my life during my first years of college and I am sure it is not over yet, but wherever you are at in your life there is a place for you here. As you are.
If you'd life to talk with me more email me at kmbeyle@ilstu.edu or stop in our office and connect with Mallory, our campus minster.