I've been many pl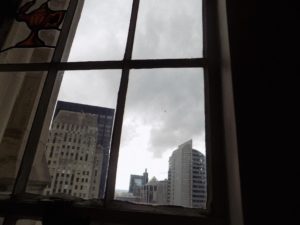 aces today. Right now though, I've made it to the prayer room for my 12:00-1:00am slot. My feet ache from working until 11:00pm, my body is tired from a lack of sleep, and my heart is heavy. Somehow though, I feel energized sitting in the prayer room with one of my very good friends that I've made through ISU Wesley. I find peace in the notes and hand prints over what I wrote the time I was here last. Maybe it's somewhat due to the latte I was able to grab prior to my prayer slot, but the ache and pain I felt began to lift as soon as I entered the room. My shoulders relaxed in comfort, my breathing slowed, and I remembered that I am loved for who I am rather than what I do.
I have to be at an event at 9:00am tomorrow that will last through the afternoon and then I will be doing homework. The burden of this affected my perception of the midnight prayer slot. I was running around all day, working all evening, and then I had this random prayer slot in the middle of the night? Maybe someone else could do it. Someone else has to be less busy, or at least it would work better in their schedule. That's probably true, yet still I find the slots I signed up for seem to be made for me.
Taking this slot pushes my logistical, organized planner personality. It does not make sense to pray from midnight-1:00am. This seemingly senseless time slot only seems to make sense during midnight-1:00am. Sitting here, it make all of the sense in the world. In the midst of the endless busy days and long nights this room makes sense. I am forced to slow down and to renew my faith. Our busy lives tend to lead us to lose hope in the future, in ourselves, and in better days. We push and stretch ourselves to meet expectations that are unrealistic, only set for us by ourselves. We are heavily influenced by our peers and the places we spend our time. What if who we are means more though?
The time we devote to certain things and the people we spend our time with say a lot about us, but all of that aside we are still valued. We don't have to do anything to receive the love we deserve. This is something I struggle with constantly as I think about what I have to do next. I dedicate so much time to certain things that I want them to count for something and mean something. After I accomplish all of the things in my day I appreciate words of affirmation and I feel purposeful. If only it was easy to feel this way about myself, nothing more. If I were to ignore all responsibility and everything in my planner, knowing myself I would feel unaccomplished and somewhat unworthy.
It's human to think we have to earn love to feel worth, achieve to survive. That's why the prayer room is so precious. It reminds us that we are deeply loved and cared for no matter where we come from or what we do. The busy days, the ache in between your shoulder blades, and the circles under your eyes don't make you more loved and worthy. You were created as worthy. You were made from love. A busy life isn't bad in and of itself, a busy life is bad if that's what you believe makes you worth something though.
I have no answers. Even after multiple semesters and hours in the prayer room, I have yet to find the solution to pain, stress, and the challenges we find ourselves faced with. I'm not sure answers are what I'm looking for now though. The prayer room as taught me process and constant intention. Every day I have to strive to remember that my worth and value does not rest on the external events or things that happen in this world. I am loved, fearlessly, in a capacity unimaginable. The pain and hurt make me stronger, learning more about myself each and every time.
The prayer room, for me, does not provide answers. It is not a place to go once and magically understand the world better. For me, it is a reminder to take this time frequently. A reminder that no matter how okay or not okay I am, I am never too far gone from love.